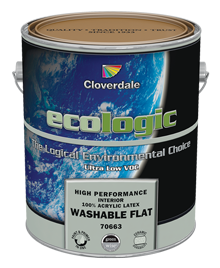 Ecologic® 100% Acrylic Interior Washable Flat (GL1)
Ecologic® is a high performance, 100% Acrylic Latex Waterborne finish. It is formulated to contain near zero VOC's, reducing its impact on the environment and meets the requirements of the leading reduced VOC standards across North America. It applies smoothly with excellent flow, levelling, hide and coverage providing a rich designer finish. Contains a fungicide to make the dried film mould and mildew free for use in high moisture areas such as kitchens and bathrooms. EcoLogic® is specifically formulated for schools, hospitals and light industrial areas. Ideally suited for use where older oil-base coatings had previously been used.
Learn more from cloverdalepaint.com
Features & Benefits
Product Code : 70663
Category :Interior Topcoat
Chemistry : 100% Acrylic Latex
Superior Resistance to stains,burnishing and abrasion than other flat finishes.
Formulated near zero VOC's.
Environment Canada approved level of mildewside to make the dried paint film mould & mildew free.
Self-priming on previously painted surfaces.
Rich designer finish that provides long lasting colour and protection in a gloss-free finish.