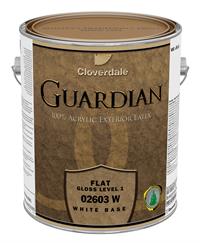 Guardian Exterior Paint
Guardian is an ultra-premium, 100% acrylic exterior house paint designed to deliver the highest level of protection to your home. With superior adhesion, flexibility, weathering and self-priming capability this coating delivers a barrier that will repel dirt and debris, reduce mildew growth extending the life of the coating.
Fortified with our X-Link Technology this coating has exceptional early water resistance and low temperature capability which will allow you to extend your painting season knowing this coating will withstand the negative impacts of early moisture exposure and cool overnight curing conditions. This product has excellent hide, flow and leveling properties making it an ideal choice for homeowners, DIY enthusiasts, and the everyday handyman.
Learn more from cloverdalepaint.com