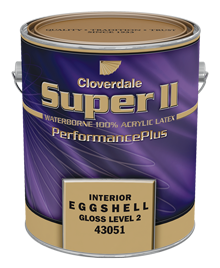 Super2 100% Acrylic Latex, Eggshell (GL2)
A premium washable finish with a slightly lower sheen level. Designed for improved "touch up" and application characteristics. Provides excellent adhesion to unprimed and non-porous surfaces. For commercial and residential applications. Ideal for new housing construction where improved washibility is required. Super Acrylic II is formulated with the latest acrylic technology. High performance characteristics provide maximum durability with superior stain resistance and washability. It is non yellowing, fast dry, low odour product suitable for interior use. This product has excellent adhesion to surfaces including previously painted oil-based finishes.
Learn more from cloverdalepaint.com
Features & Benefits
Product Code : 43051
Category :Interior Topcoat
Chemistry : 100% Acrylic Latex
Maximum durability
Superior stain resistance and washability
Higher volume solids provides better hiding, coverage and durability.
Canadian Food Inspection Agency "No Objection Status" for all registered establishments.
Excellent adhesion to porous and non-porous surfaces.
Ideally suited for brush and roll application.