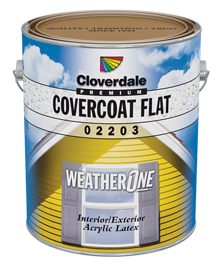 WeatherOne® CoverCoat
WeatherOne CoverCoats are 100% Acrylic premium quality products with excellent hiding and durability. Available in flat, satin, or semi-gloss finishes for use on stucco, masonry and primed wood and other properly prepared substrates. CoverCoat Flat Latex is an ideal choice for masking the effects of uneven light refraction on irregular surfaces. CoverCoat Satin and Semi Gloss Latex are premium quality exterior finishes and are ideal choices for aluminum and weathered vinyl siding.
Learn more from cloverdalepaint.com
Features & Benefits
Product Code : 02203
Category : Exterior Topcoat
Chemistry : 100% Acrylic Latex
Recommended Uses
•  For interior or exterior stucco, masonry, primed wood, metal or weathered vinyl or aluminum siding.
•  Due to the very dark nature of 02007 factory-mixed black, not recommended for vinyl siding.
•  New colours for vinyl siding must by lighter than original colour. Apply at temperatures above 5°C (41°F).
•  A stain blocking primer is strongly recommended for application to new cedar wood.