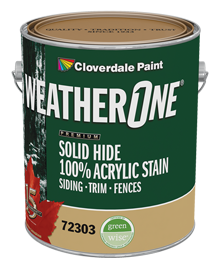 WeatherOne® Stains
WeatherOne® 100% Acrylic Solid Hide and Acrylic Semi-Transparent Stains are ideal choices for vertical wood siding, fences, wood composites, shingles, trim and fascias and out door furniture. Features superior adhesion properties.
Learn more from cloverdalepaint.com
Features & Benefits
Product Code : 72303
Category : Wood Stain
Chemistry : 100% Acrylic Stain
Recommended Uses
For use on exterior wood surfaces, fences, railings, fibre cement siding, wood composites, shingles trim and fascia. Not recommended for deck surfaces.